---
7 folds tie
It is considered "the queen" among the ties. A 7-fold tie requires the use of twice the fabric, compared to a traditional 3-fold, and double the manual labor, skilled labor. The hold and the way of falling of a 7-fold are impeccable. Furthermore, such a construction gives the tie a beautiful, intense and light hand, impossible to obtain with less fabric. The difference between a 3-fold and a 7-fold tie can only be perceived by wearing it.
Heavy Twill Silk (50 Oz.)
Exclusive and refined fabric, which expresses great shine, with a smooth, soft and exceptionally full hand.
Each design is highlighted, thanks to the brightness able to buy on this type of silk. Right after hand-printed English silk, heavy twill silk is the best of printed twill silks.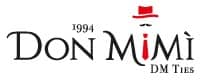 Composition : 100% silk
Fabric : Twill 50 oz
Width (cms) : 8
Length (cms) : 150
Key features
Unique design
Dropshipping available
Handmade in Italy
Made in Italy
For upscale boutiques
Luxury product
Made by Italian artisans
One-of-a-kind
Ready-to-Ship Free Sample
Rules
Minimum : 1 Pcs
Share